Bathroom Remodeling • Barrier Free Bathrooms & Homes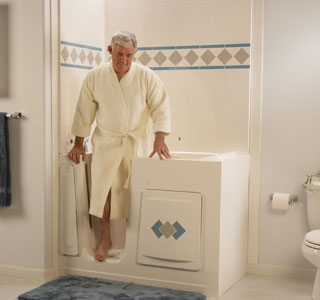 Bathroom remodeling increases your bathroom space. Bathroom remodeling can add extra floor, cabinet, shower and vanity space. Bathroom remodeling will improve your bathroom appearance. Most standard bathrooms can have unattractive water stains. These are commonly found in sinks, showers, bathtubs and floors. Old bathroom tiled floors can be damaged by water from leaky pipes.

Exalt Him Properties, Inc. offers barrier free bathroom remodeling. We professionally install bathroom plumbing, bathroom fixtures, showers, bathtubs and more. Need his and her sinks for more room? Our barrier free bathroom remodeling experts will install the bathroom of your dreams. We provide bathroom remodels for any reason. We complete bathroom remodels using products from Best Bath ® and other top bathroom product vendors.

Bathroom plumbing replacement for old and damaged pipes
New floors to replace stained and outdated bathroom floors
Walk-in bathtub installation for easy access for bathing
Light fixtures for better lighting and vision
Increased space for maneuverability
Variety of bathroom countertops, styles, colors and designs
We specialize in barrier free home design and construction

Contact your Disability & Accessible Remodeling Experts at 253-248-4143.


Exalt Him Properties
253-248-4143


Monday-Friday, 8-5
Saturdays by appointment only
Sundays: Closed